Integrating Safety Systems in Your Home
At Earl Weaver, we've spent the last 50 years creating inviting homes and living spaces that can be enjoyed by friends and family. Over the years, we've worked hard to look ahead at trends and innovations, so we can provide the best quality and service for our clients. One area where we have seen tremendous technological growth is in home safety and security.
Regardless of the size or style of your home, the safety and security of your loved ones is always on our mind. Advances in the safety and security give you peace of mind that your home is monitored 24/7/365 from fire, gas, carbon monoxide, or intruders – and will provide the right response in case something happens.
Interconnected Smoke & CO Detectors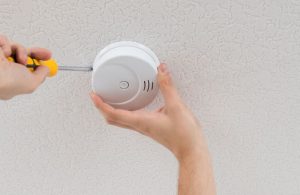 A welcome trend in home safety is the development of interconnected smoke and carbon monoxide detectors, which alert all alarms in your house if one detects smoke or harmful CO. Most municipalities require interconnected systems in construction or remodeling projects. In new construction, the system is usually connected by wires. For remodel projects in existing homes, wireless systems are available to connect these sensors without the need of invasive wiring.
The life expectancy of smoke and CO detectors is only about 7-10 years, depending on the make and model. If your home has old or aging detectors, replace them for your family's safety. While you are at it, consider switching to an interconnected system.
If your home relies on natural gas or LP gas, it is wise to install a combustible gas detector. In case of a leak, the detector will alert your family of the leak, so you can contact your service company for help. We recommend installing this type of detector close to your gas appliances, whether in the kitchen, basement, or laundry.
Home Security & Automation Systems
Your home's array of safety devices can be integrated into a whole home security and automation system. With a home automation system, you can rest assured knowing that your home is actively being monitored – no matter where you are in the world – and the system will send out an alert in case something happens.
Let Us Help You Protect Your Home
We care about the safety and security of you and your loved ones and we want to create a space where you can relax and feel safe. We would be happy to discuss your options for a home security system with you. Contact us to start a conversation.